"But you…are my sweetest gift. The life surprise that soothed all my ills and gave me my greatest joys. I feel so blessed you are mine."
Ninth Ward is part of the Louisiana Girls Trilogy
Ninth Ward
Twelve-year-old Lanesha lives in a tight-knit community in New Orleans' Ninth Ward. She doesn't have a fancy house like her uptown family or lots of friends like other kids on her street. But what she does have is Mama Ya-Ya, her fiercely loving caretaker, wise in the ways of the world and able to predict the future. So when Mama Ya-Ya's visions show a powerful hurricane–Katrina–fast approaching, it's up to Lanesha to call upon the hope and strength Mama Ya-Ya has given her to help them both survive the storm.
Ninth Ward is a celebration of resilience, love, family, and friendship, and a deeply emotional story of transformation.
See pictures of the real Ninth Ward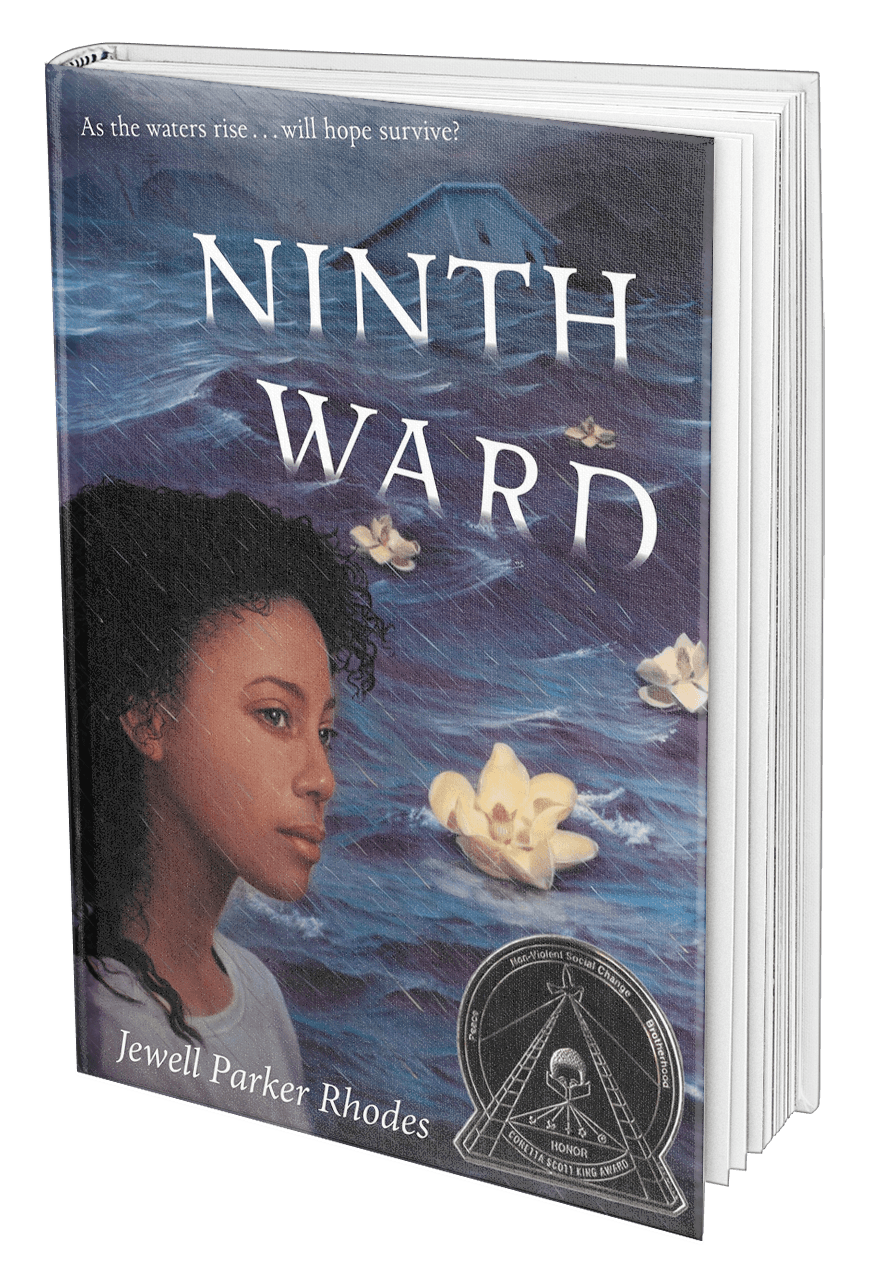 Want to own an autographed copy of Ninth Ward? Order one straight from Jewell!
Videos
Ninth Ward and the students of Hahira Middle School
Honors
Recognition and Accolades awarded to Ninth Ward
Praise
Words of praise for Ninth Ward from the press and authors
"An enjoyable, satisfying novel about the magical spirit of a young girl navigating her way through an American tragedy."
"If you are looking for a novel that lays blame about the devastation of New Orleans' Ninth Ward, this is not it. If you are interested in a novel that captures the essence of New Orleans and its people while simultaneously illustrating how tragedy makes us stronger, Ninth Ward is a must read."
Tara Baldridge, 57th Street Books

"With a mix of magical and gritty realism, Rhodes's (Voodoo Dreams) first novel for young readers imagines Hurricane Katrina and the subsequent flooding through the eyes of resourceful 12-year-old Lanesha. Lanesha lives with Mama Ya-Ya, an 82-year-old seer and midwife who delivered Lanesha and has cared for her since her teenage mother died in childbirth…"
Publishers Weekly, Starred Review
"Heartbreak and hope are reflected in Lanesha's story, which will capture even reluctant readers due to the inventive storytelling and the author's ability to bring history to life."
School Library Journal, Starred Review
"Another gem by Jewell Parker Rhodes. Two youngsters, friends forever, find a way to survive, to love, to begin again. Wow! What a legacy to pass along."
Nikki Giovanni, Author
Author Reading
Audio recording of author Jewell Parker Rhodes
Order Ninth Ward
Don't forget to pick up your very own copy of Ninth Ward! Available as paperback/Kindle/audio book/Nook from the following stores: