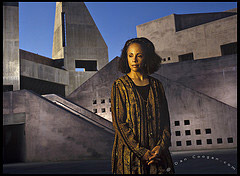 Jewell Parker Rhodes is the award-winning author of Voodoo Dreams, Magic City, Douglass' Women, Season, Moon, Hurricane, and the children's book, Ninth Ward. Her writing guides include: Free Within Ourselves: Fiction Lessons for Black Authors and The African American Guide to Writing and Publishing Nonfiction. Jewell is the Virginia G. Piper Chair in Creative Writing and Artistic Director of Piper Global Engagement at Arizona State University.
Her play, Voodoo Dreams; was cited as "Most Innovative" Drama in the 2000-2001 Professional Theater Season by the Arizona Republic and she is currently at work on a theatrical version of Douglass' Women.
Her work has been published in Germany, Italy, Canada, Turkey, and the United Kingdom and reproduced in audio and for NPR's "Selected Shorts."
Her honors include: the American Book Award, the National Endowment of the Arts Award in Fiction, the Black Caucus of the American Library Award for Literary Excellence, the PEN Oakland/Josephine Miles Award for Outstanding Writing, and two Arizona Book Awards.  Rhodes is the Virginia G. Piper Endowed Chair of Creative Writing at Arizona State University and Artistic Director of Piper Global Engagement.