Porch Stories is Dr. Jewell Parker Rhodes's tribute to her beloved grandmother, a real account of the love she received and the lessons she learned.
Jewell was left in the care of her father and his mother when her own mother abandoned the family. Grandmother Ernestine's house in Pittsburgh, Pennsylvania, was home to four other grandchildren as well. And while its crumbling bricks, lack of air conditioning, and neighborhood rodents made life anything but easy, the family house was filled with love. Everyone on their street knew and loved Grandmother Ernestine; men would tip their hats and children would rush up for a hug any time she was outside.
No one loved Grandmother Ernestine more than Jewell, who would pass up a movie with her cousins to sit outside on Ernestine's front stoop and listen to her stories and her words of comfort. Jewell would later move out West to live with her mother and father as they reattempted marriage. But that was a short-lived experience. Before long, she was back in the loving arms of her grandmother, whose wisdom and warmth gave all of her children the tools to overcome the ordinary and extraordinary challenges life brings. Porch Stories, described by Rhodes as "an inter-generational love song," is a tribute that is at once candid, courageous, and reverent.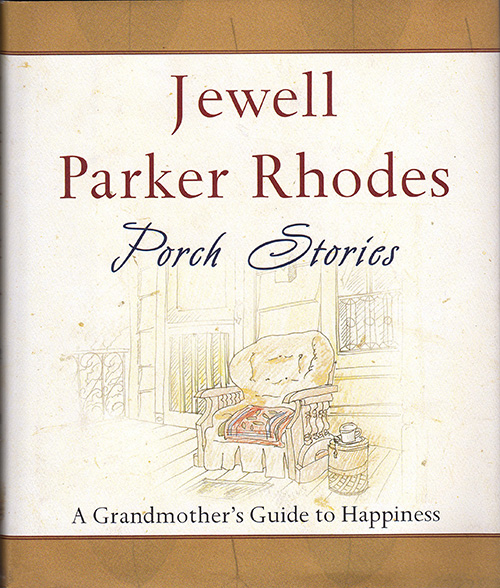 Honors for Porch Stories:
2007
Best Autobiography / Biography/Memoir
Arizona Book Award
2007
Best Multicultural Book
Arizona Book Award
Praise for Porch Stories:
"A vivid and affectionate portrait…Grandmother Ernestine is the keeper of wisdom, stories, hopes, and dreams. Thank you, Jewell Parker Rhodes, for sharing her with us."
– Amy Hill Hearth, co-author of Having Our Say
"Reading Rhodes' words is like sitting on a sun-filled porch and sipping a cup of chamomile tea — soothing. Her grandmother becomes your grandmother, whose mother-wit makes you want to take notes and pass down a little something to your own honey child."
– Pittsburgh Post-Gazette
Let's Stay in Touch!
Subscribe to Jewell's mailing list and stay up to date on the latest news and events.