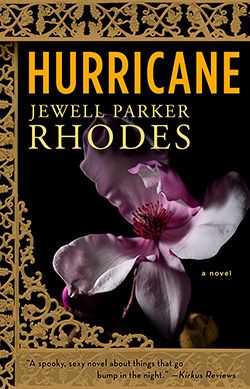 Hurricane
About Hurricane:
For centuries, environmental damage and environmental racism have afflicted Louisiana and the Gulf marshes and waters. Science, spirituality, and historical perspective are all needed by my protagonist, Marie to understand why New Orleans was so vulnerable in 2005 to Hurricane Katrina and why the levees failed.
In 2009, the National Museum of African Art, Smithsonian Institution mounted a brilliant exhibit, honoring the African water goddess, Mami Wata, and the permutations of how her spirit transformed as slaves carried their faith into the New World. The Fowler Museum at UCLA first exhibited the collection of sculpture, paintings, and mixed media and published a glorious book, Mami Wata: Arts for Water Spirits in Africa and its Diasporas written by Henry John Drewal (and contributors Houlberg, Jewsiewicki, Noell, Nunley, and Salmons).
Mami Wata's core emphasis on fertility, creating new land and new worlds, and celebrating womanist power resonated deeply with me.
Mami Wata, for me, became a symbol for the Mississippi River itself, damned to serve human needs. Clearly, responsible environmental stewardship means balancing resources with certain and potential damage, and having a care for how for the vitality of the environment for future generations.
In Hurricane's metaphorical world, Mami Wata came to symbolize the devastation of the Gulf coast region, in general, and the dead zone in the Gulf, in particular. Irresponsible environmental stewardship that had made New Orleans and the coast especially vulnerable to Hurricane Katrina seemed, in my imagination, a cry from Nature, Mami Wata, herself. Having constricted Mami Wata, her waters were unable to give birth to new land that was essential to creating and sustaining life—both human and animal.
The 2010 BP oil spill compounded problems in the Gulf of Mexico and reinforced my theme of human hubris versus humility in resource extraction.
My protagonist, Marie, doesn't have the answer to solve environmental problems. But she does have faith—a spiritual belief that Nature, itself, is a good to be honored. She also has courage and optimism to lend her talents to heal a community undone by natural and man-made disaster.
Hurricane ends my contemporary voodoo trilogy. Marie Laveau neé Levant has become a quintessential Louisianan. She's become strong enough to keep fighting for the city and state she calls home. She's comfortable with her spiritual power, unafraid of battling injustice, and honored to proclaim her name to the world:
"I am Marie Laveau."
She is one, in a long line of women, handing sight, strength, and love, down through the generations.
Purchase Hurricane:
Order your copy now at Amazon.
Also available as Kindle or Audiobook.
Order your copy in paperback from IndieBound
Order your copy from Barnes & Noble.
Also available for Nook.