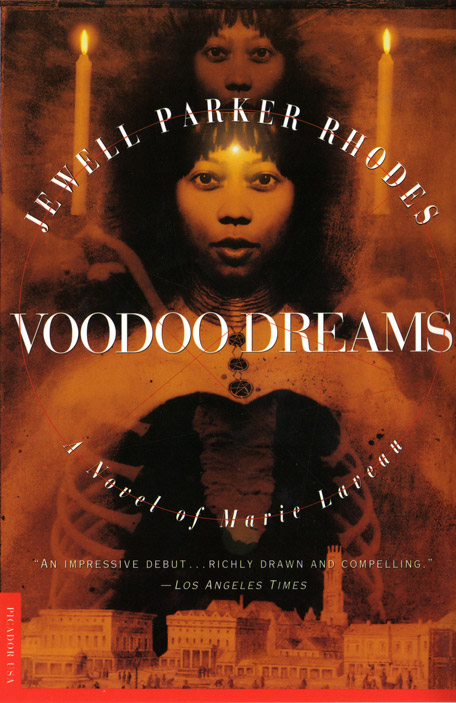 Voodoo Dreams
About Voodoo Dreams:
The story of Marie Laveau, the character featured on American Horror Story: Coven.
New Orleans in the mid-nineteenth century: a potent mix of whites, Creoles, free blacks, and African slaves, a city pulsing with crowds, commerce, and an undercurrent of secret power. The source of this power is the voodoo religion, and its queen is Marie Laveau, the notorious voodooienne, worshipped and feared by blacks and whites alike.
Honors for Voodoo Dreams:

Recorded Books, LLC, 2002 (Audio Distinction/ Earphones Award)
Praise for Voodoo Dreams:
"Bewitching…a character of vast dimension and feminine power."
– Booklist

"An overwhelming journey navigated with skill and imagination…captures the dazzle and showmanship if voodoo."
– Los Angeles Times

"I had a great time reading Voodoo Dreams. Marie is the most interesting character in American culture. Jewell Parker Rhodes did a wonderful job painting the possible picture of the Queen of Voodoo. I loved it."
– Whoopi Goldberg

"Voodoo Dreams is filled with searching…and mystery. Jewell Parker Rhodes has cast a spell of a novel; each page contains language as vibrating as the city of New Orleans. If Marie Laveau still lives it is because Rhodes has been touched by her spirit. This book will make a believer out of everyone."
– E. Ethelbert Miller, Director, African American Resource Center, Howard University

"This first novel is full of tangible atmosphere and vivid detail. It is a fevered, gripping dream."
— Susan Straight, author of I've Been in Sorrow's Kitchen and Licked Out All the Pots
Special article from Jewell on writing Voodoo Dreams:
Voodoo Dreams was featured in WomenWriters.net Special Issue:
See the WomenWriters.net August 2008 Special Issue on "Serving The Spirits: Women & Voodoo in Literature and Popular Culture", including the following on Voodoo Dreams:
Carey Weeks' painting Shreveport Celebrates The Written Word
(click image to open full-size in new window)