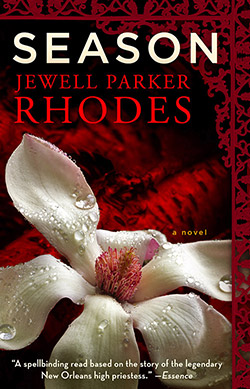 Season
About Season:
Jewell Parker Rhodes, who has earned legions of fans with her masterful fiction, launched her career as an award-winning novelist with Voodoo Dreams, based on the legend of New Orleans's most famous voodoo priestess, Marie Laveau.
Voodoo Season, Rhodes's fourth novel, revisits the mystical landscape of Louisiana, but now, for the first time, the celebrated author of historical fiction presents a mystery set in the here and now. This is the story of Marie Levant, a great-great granddaughter of Marie Laveau and a medical doctor compelled by unseen forces to relocate from Chicago to her family's native home. This is New Orleans, where the slave-holding past merges with the twenty-first century, a place where women of color are still being abused, raped, and — even more horrifying — rendered "un-dead," zombie-like Sleeping Beauties. The Quadroon Balls of yesterday are a present reality and only Marie Levant can untangle the medical mystery.
A smart modern-day heroine, unafraid of her sexuality, Marie Levant extends the Laveau legacy of spiritual empowerment, prophetic vision, and voodoo possession. Voodoo Season is a fresh and original work of fiction that is a magical womanist tale of mystery and power.
I had always planned on writing a sequel to my first novel, Voodoo Dreams, Voodoo Season has a special place in my heart, because the novel helped me grow up and taught me, like Marie Laveau, to appreciate truly the glory and wonder of being a woman; powerful; spiritual; in control of her life and body; valuing ancestors, family, and community.
Voodoo Season is the first novel in a contemporary trilogy in which Marie Laveau's descendent grows stronger and also more vulnerable.
What's the sense of living if we don't open our hearts to love…accept our imperfections and recognize that life is a journey, never ending? Our spirits never die…and each of us has a responsibility to leave a legacy of grace, kindness, and mentoring to our children and the next generation.
Read Voodoo Dreams, the novel that started the journey; enjoy Voodoo Season; and look for Marie, healing and loving in the next novel of the trilogy, Yellow Moon, and surviving Katrina in Hurricane Levee Blues.
Praise for Season:
"…Marie's world of sex, malevolence, the undead, and miraculous rescue is alluring."
– Booklist

"Voodoo Season is a tantalizing brew of spirituality, sensuality, and old-fashioned good storytelling — a perfect novel for anyone who loves a strong mystery beautifully told. Another winner from this great writer!"
– Valerie Wilson Wesley, author of Playing My Mother's Blues

"Haunting and lyrical, Voodoo Season draws us into the fascinating world of ghosts and spirits, and the people they watch over. Jewell Parker Rhodes has created a terrific character in Marie Levant: strong, sensual and vulnerable."
– Karen Siplin, author of Such a Girl

"In Voodoo Season, Jewell Parker Rhodes revisits her rich, mysterious world of New Orleans, but this time in a contemporary mystery. In this literate page-turner, a doctor hiding from her painful past is caught in a web of ritual murder and must rediscover the healing voodoo legacy she inherited from her great-grandmother, Marie Laveau. Compelling and elegantly written."
– Tananarive Due, author of Joplin's Ghost

"I found Voodoo Season engrossing and compelling…Jewell Parker Rhodes seems to be not only committed to fully exploring what it means to be a contemporary, dynamic woman, but also to exploring and unmasking misperceptions of Vodun/Voodoo. I admire that commitment."
— Delroy Lindo
See the WomenWriters.net August 2008 Special Issue on
"Serving The Spirits: Women & Voodoo in Literature and Popular Culture" >
Purchase Season:
Order your copy now at Amazon.
Also available as Kindle or Audiobook.
Order your copy in paperback from IndieBound
Order your copy from Barnes & Noble.
Also available for Nook.
Recorded Book also available through recordedbooks.com