A jazzman, a wharf worker, a prostitute, all murdered. Wrists punctured, their bodies impossibly drained of blood. What connects them? Why are they rising as ghosts?
Marie Levant, the great-great granddaughter of the Voodoo Queen, Marie Laveau knows better than anyone New Orleans' brutal past—the legacy of slavery, poverty, racism and sexism—and as a Doctor at Charity Hospital's ER, she treats its current victims. When she sleeps, she dreams of blood. Rain, never-ending.
The river is rising and the yellow moon warns of an ancient evil: an African vampire "wazimamoto," a spirit created by colonial oppression. The struggle becomes personal, as the wazimamoto is intent on destroying Marie and all the Laveau descendents. Marie fights to protect her daughter, lover, and herself from the wazimamoto's seductive assault on both body and spirit.
Echoing with the heartache and triumph of the African American experience, the soulful rhythms of jazz, and the horrors of racial oppression, Moon gives us an unforgettable heroine — sexy, vulnerable, and mysterious — in Marie Levant, while it powerfully evokes a city on the brink of catastrophe. Part two of the New Orleans trilogy that began with Season.
Read an interview with Jewell discussing Yellow Moon at Hermitosis.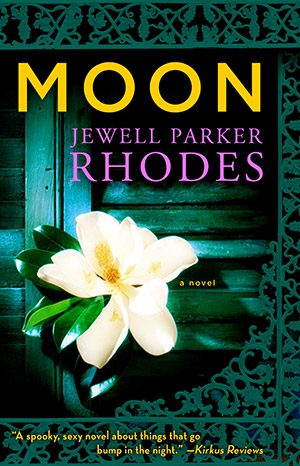 Praise for Moon:
"…Rhodes puts…earnest thought into the [New Orlean's] dark history and comes up with a satisfying and eerie story that lies somewhere between the work of Anne Rice and James Lee Burke […] The visceral descriptions of supernatural possessions are matched by equally vivacious sex scenes. A spooky, sexy novel about things that go bump in the night."
– Kirkus Reviews
"Fans of vampire and New Orleans horror will find this an unexpected and thought-provoking treat."
– Booklist
"Rhodes's superb sequel to 2006′s Voodoo Season, a wazimamoto, or African vampire, stalks Dr. Marie Laveau, a 21st-century doctor, modern voodoo practitioner and descendant of the legendary Voodoo Queen of New Orleans. Rhodes includes an informative author's note about the evolution of the African vampire as a response and a warning about racist brutality and cultural vampirism, giving some cultural weight to this hypnotic thriller."
– Publisher's Weekly
"In the brilliant novel Yellow Moon, real world crime bumps up against otherworldly forces. Modern medicine and ancient voodoo practices dance hand in hand along jazz-filled New Orleans streets in this stirring exploration of a contemporary healer descended from the legendary voodoo queen Marie Laveau. In this stunning novel, the author once again demonstrates that her gifts as a story-teller are unparalleled."
– Betty Webb, author of the prize-winning Lena Jones mysteries, DESERT CUT and DESERT WIVES
"The power of our history, of our blood memories is deeply rooted in Yellow Moon by Jewell Parker Rhodes. Yellow Moon reminds us of what we must never forget and continue to honor–our past."
— Angela Reid–President of Imani–Metro Atlanta
Let's Stay in Touch!
Subscribe to Jewell's mailing list and stay up to date on the latest news and events.