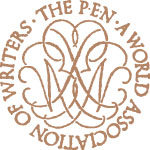 PEN International (known as International PEN until 2010) is a worldwide association of writers, founded in London in 1921, to promote friendship and intellectual co-operation among writers everywhere. The association has autonomous International PEN centers in over 100 countries.
Other goals included: to emphasize the role of literature in the development of mutual understanding and world culture; to fight for freedom of expression; and to act as a powerful voice on behalf of writers harassed, imprisoned and sometimes killed for their views.
PEN originally stood for "Poets, Essayists and Novelists", but now includes writers of any form of literature, such as journalists and historians.
It is the world's oldest human rights organization and the oldest international literary organization.

The American Book Award is an American literary award that annually recognizes a set of books and people for outstanding literary achievement.
The Award is administered by the Before Columbus Foundation, which established it in 1978 and inaugurated it in 1980, recognizing a list of eight 1979 publications. Almost every Award recognizes a particular work by an American author without restriction to race, sex, ethnic background, or genre. In 2000 there were two Lifetime Achievement awards, one Editor award, and one Journalism award. There have been several subsequent awards for lifetime achievement and a few to editors.

Founded in 1990, the Discover Great New Writers program highlights books of exceptional literary quality from authors at the start of their careers.
A small group of Barnes & Noble bookseller volunteers convenes year-round to review submissions to the program and handpick titles for our promotion, currently featured at 700+ Barnes & Noble and 100 prominent Barnes & Noble College Bookstores, and on www.bn.com/discover.
Annually, we recognize two of our exceptional writers with the Discover Great New Writers Award (one each for Fiction and Non-fiction). In addition to a $10,000 prize, we promote the winning titles extensively in our stores and online.